McCracken County's Own Megan Bolin Recognized as Outstanding High School Educator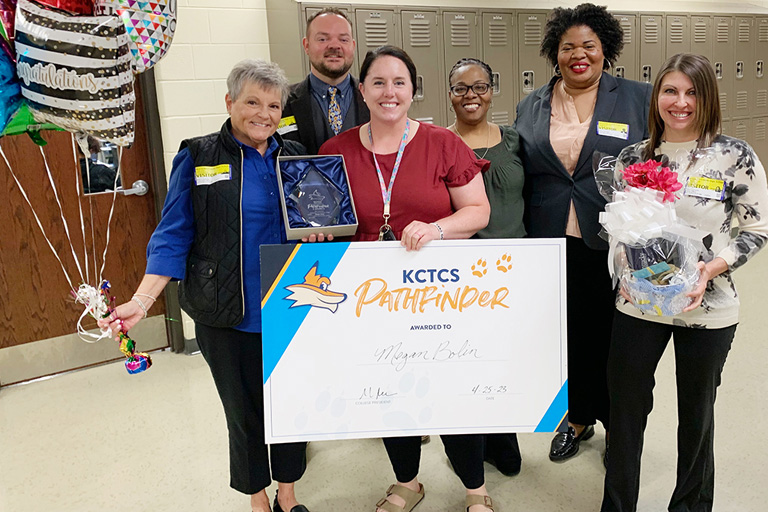 McCracken County High School college and career counselor Megan Bolin wasn't expecting the gift she recently received in the halls of the high school. West Kentucky Community and Technical College (WKCTC) staff surprised Bolin as they presented her with the Kentucky Community and Technical College System (KCTCS) High School Teacher and Counselor Pathfinder Award.
Established by the KCTCS, the Pathfinder Award recognizes high school teachers and counselors for their outstanding efforts in assisting students with their college-going plans.
"This award is a total surprise! I've worked with WKCTC over the last five years, and we partner to do what's best for our kids, to get their next steps planned, and to get them signed up for classes," Bolin said. "The partnership between us and WKCTC has been great."
Sarita Buchanan, an admissions advisor at WKCTC, said she has worked with Bolin since 2013 when the high school opened. "To say that she is amazing at what she does is an understatement! She pours her heart and soul into each student she works with," Buchanan said. "Megan has the friendliest, most welcoming personality, making her students feel comfortable. She sets the standard very high for others in her field, and I'm thankful to know and work with her."
In addition to Bolin, the Pathfinder Award was given to one teacher or counselor from each of the other 15 KCTCS colleges. Nearly 250 nominations were submitted, representing every KCTCS college. Any high school teacher or counselor is eligible for the Pathfinder Award. A KCTCS student or faculty/staff member must nominate them. This year's award winners were selected based on the following criteria: (1) encouraged student(s) to attend a KCTCS college; (2) assisted student(s) in identifying a career and postsecondary path; (3) provided mentorship; (4) and/or maintained contact with the student(s).
"Before, during, and after Community College Month, high school teachers and counselors are working tirelessly to ensure our young people can succeed in the classroom, workplace, and community," said WKCTC President Anton Reece. "In that spirit, the Pathfinder Award recognizes the best and brightest among us who go above and beyond to embolden and empower the next generation." Dr. Reece added, "Thanks to Megan Bolin's exemplary efforts, countless students in McCracken County can follow their dreams and make more informed decisions about their future."
For more information on the Pathfinder of the Year Awards, please visit https://kctcs.edu/landing/pathfinder-awards.aspx