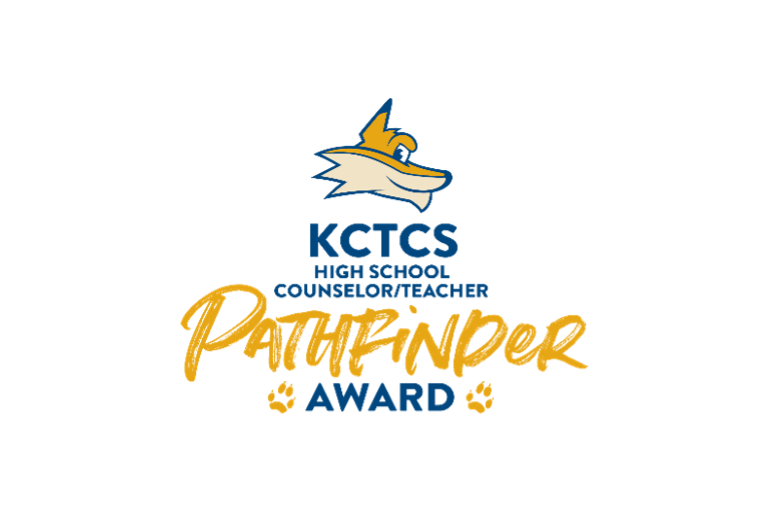 The Kentucky Community and Technical College System wants to celebrate and recognize those high school teachers and counselors who do an outstanding job of assisting and recommending students to attend one of our 16 colleges.
KCTCS Pathfinder Award Contest Overview:
One Kentucky high school teacher or counselor winner will be selected from each of the 16 KCTCS colleges. Winners will be selected based on the following criteria:

Encouraged student(s) to attend a KCTCS college,
Assisted student(s) in identifying a career and postsecondary path,
Provided mentorship, and/or
Maintained contact with student(s).
An overall state winner will be selected from the 16 college winners


Winners will be nominated by current KCTCS
students and faculty/staff.


Recognition of Winners:

A statewide virtual awards ceremony.
Recognition at college commencement ceremonies.
Public relations announcement.
High School



Prizes:

Winners will receive a unique award/trophy and a winner swag bag.
Prizes will also be given to the individuals who nominate the winners.
All nominees and nominators will receive a specially designed t-shirt celebrating their support of KCTCS students.



Key dates:

Nominations acceptance: December (22) – February (23)
Winner selection: March
Formal Announcement: April



Eligibility Requirements:

Any Kentucky high school personnel teacher or counselor recommended by a current KCTCS student, alumni or KCTCS employee.



Winner Selection:

A panel of judges consisting of the following will select winners:

Kentucky Council on Postsecondary Education Gear-UP staff.
KCTCS college recruiter.
KCTCS college marketing director.
KCTCS SO marketing staff.
KDE representative.
KCTCS student service representative.