Greenup County's Own Barbie LeMaster Recognized as Outstanding High School Educator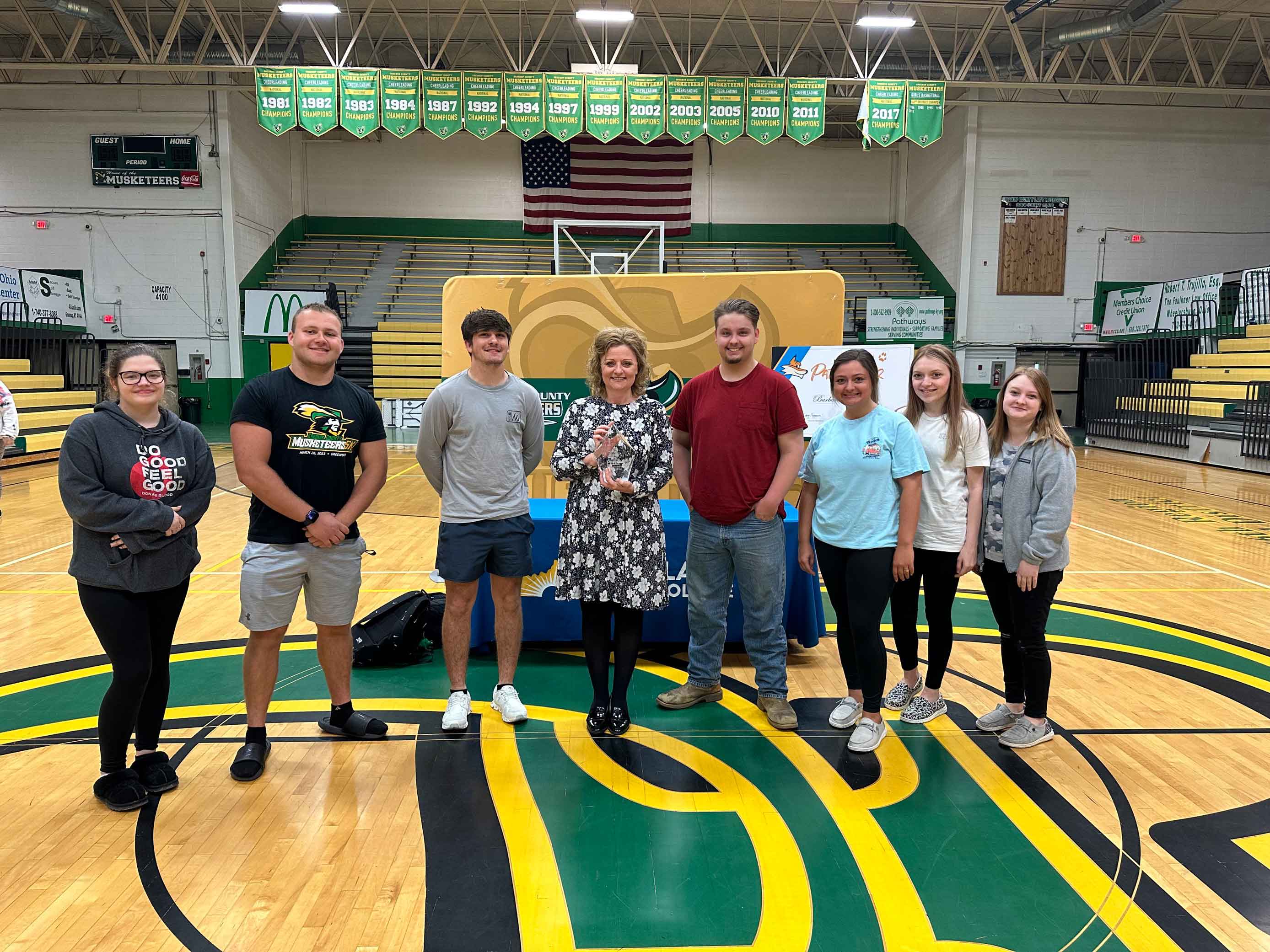 During a special event at Greenup County High School attended by the GCHS study body, faculty, and staff, Greenup County High's guidance counselor, Barbie LeMaster was announced as the Ashland Community and Technical College 2023 KCTCS High School Teacher/Counselor Pathfinder Award recipient. Established by the Kentucky Community & Technical College System (KCTCS), the Pathfinder Award recognizes high school teachers and counselors for their outstanding efforts in assisting students with their college-going plans.
"When we think about the relationships we have with guidance counselors in our area schools and the implications those relationships have on our prospective students, we want counselors like Mrs. LeMaster in our corner. She is a great advocate for her students and a wonderful partner to our institution. We appreciate all her hard work and congratulate her on being recognized as the first Pathfinder Award recipient. This award is much deserved," said Steve Woodburn, Chief Student Affairs Officer.
Greenup County High School Principal Anthony Thompson agreed with Woodburn.
"We are so grateful that Mrs. LeMaster was selected as the Pathfinder Award recipient from Ashland Community and Technical College. The folks from ACTC are our best partners. To that end, Mrs. LeMaster works tirelessly with them to make sure our students can take advantage of everything they have to offer," he said. "Her character, work ethic, and commitment to the students of Greenup County are unmatched. We believe Mrs. Lemaster is who we hope our young people will become."
LeMaster described being selected as the first Pathfinder Award recipient as positively overwhelming.
"I am most overwhelmed to have been nominated for the ACTC Pathfinder Award by one of our ACTC dual credit students," LeMaster said. "To learn a student gave pause in his busy life to communicate words of kindness and thanks about my role with ACTC's dual credit opportunities at GCHS is an honor that I deeply cherish. While I am thrilled to receive the ACTC Pathfinder Award, knowing the nomination came from a dual credit student helps me to know that our dual credit program at Greenup County High School is on track with serving the needs of our students."
Greenup County junior and ACTC dual credit student Mason Furst nominated LeMaster for the award.
"Throughout my time as an upperclassman at Greenup County High School, Mrs. LeMaster has shown the deepest fervor in providing a productive and welcoming environment for her students. There is not a limit to the lengths at which she will go in securing a future for these students," Furst said.
Any high school teacher or counselor can be eligible for the Pathfinder Award and must be nominated by a KCTCS student or faculty/staff member. Winners were selected based on the following criteria: (1) encouraged student(s) to attend a KCTCS college; (2) assisted student(s) in identifying a career and postsecondary path; (3) provided mentorship; (4) and/or maintained contact with student(s).
In addition to LeMaster, the Pathfinder Award was given to one teacher or counselor from each of the other 15 KCTCS college. In total, nearly 250 nominations were submitted, representing every KCTCS college. For more information on the Pathfinder of the Year Awards, please visit https://kctcs.edu/landing/pathfinder-awards.aspx