Kelsey Hargis Named as SCC's Pathfinder Award Winner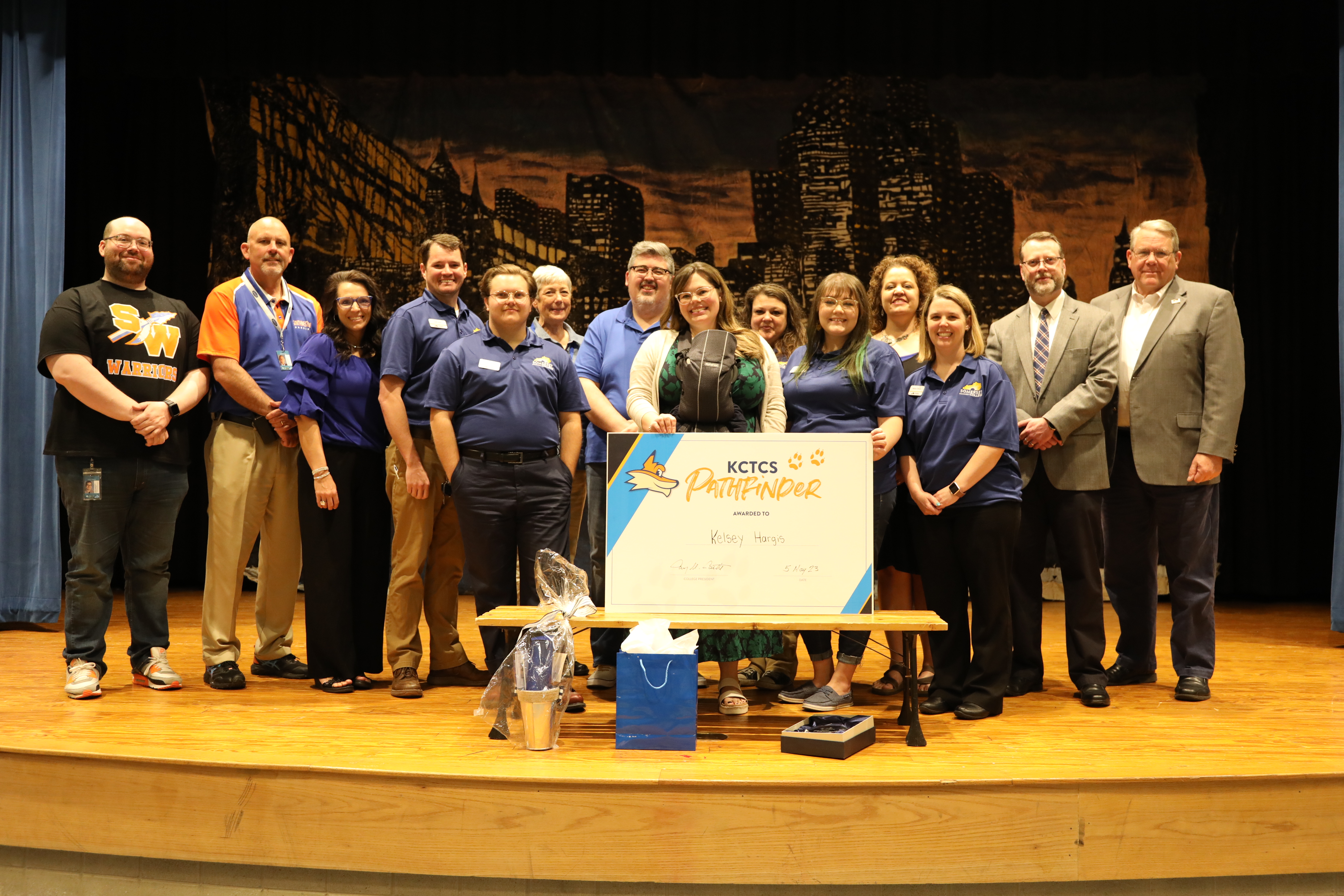 Somerset Community College (SCC) proudly announces that Kelsey Hargis, the ETS Counselor for Southwestern High School, has been named the inaugural SCC High School Teacher/Counselor Pathfinder Award winner.
Established by the Kentucky Community & Technical College System (KCTCS), the Pathfinder Award recognizes high school teachers and counselors for their outstanding efforts in assisting students with their college-going plans.
SCC President Dr. Carey Castle and Dr. Clint Hayes, senior vice president, and staff from Student Affairs surprised Hargis at an award ceremony at Southwestern high school.
"All our high school teachers and counselors are working tirelessly to ensure our young people can succeed in the classroom, workplace, and community. It is our honor to be able to salute their efforts and recognize someone annually for all they do to ensure students excel. The Pathfinder Award recognizes those who go above and beyond to empower the next generation," said Castle.
Hargis' nomination noted how she always steps in to assist with events or even obtaining high school transcripts. She is always prompt and kind and goes the extra mile when helping seniors connect with SCC staff and faculty.
She and her husband, John Hargis, a guidance counselor at SWHS, are always rooting for SCC and including in every event or working with SCC reps to make new events for recruitment.
She is a great advocate for helping students make wise decisions starting out at a community college and transferring to 4-year schools afterward. She is encouraging and informative. Hargis had multiple nominations for this award.
Hargis has been with SWHS since 2013, and she holds a Bachelor of Arts focused in English writing from Berea College and an MAT from the University of the Cumberlands. She and her husband are celebrating the new birth of their second child.
Nominations for the SCC High School Teacher/Counselor Pathfinder Award were made by KCTCS students, faculty, and staff. Winners were selected based on the following criteria: encouraged student(s) to attend a KCTCS college; assisted students in identifying a career and postsecondary path; provided mentorship; and/or maintained contact with students.
"I am honored to receive this award. I truly love what I do, and I am thankful to get to do it with such amazing partners! I can't say enough good things about the SCC faculty and staff-they are all so supportive and always willing to help any student out. I am truly honored to be recognized by the college."