Welcome to KCTCS
If you're looking for a high wage, high demand career, the hardest part of the journey is the first step. We're here to help.
At KCTCS, you'll get a quality education at a price you can afford, classes that fit into your demanding schedule, and a campus that is close to home.
KCTCS Colleges
Use the map below to find the KCTCS college closest to you. Or check out our online courses here.
Tuition & Fees
| Tuition Cost | Rate |
| --- | --- |
| $169 | Per Credit Hour |
| $2,028 | Per Semester |
| $4,056 | Annually |
High Wage, High Demand Jobs
Go KCTCS! Student Service Center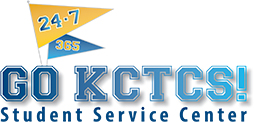 Give them a call, live chat or drop them an email if you have questions about:
The admissions process
Where to get a copy of your transcript
How to enroll in courses
The financial aid process
How to make a payment